Last week I had one of my proudest Internet moments.  I managed to nab a mythical Bag of Crap at the last wootoff.  Today it finally arrived.  The only thing that really comes close to this was the day that I got a quote accepted on Bash.org.  For those that don't know, Woot.com is a deal a day site.  This means what it sounds like – they sell ONE item each day, and that item is usually something you really do not need.  You still check back because every once in a while they have things you DO need, like a LeakFrog.
Once a month something special happens — a "woot off."  During a woot off, instead of selling one thing until it sells out, they put up a new item after the last one goes.  This keeps things fresh and exciting!  The real excitement, however, comes from the mythical "Bag of Crap" (BoC for short).  This thing costs $3 (+$5 shipping), and it is literally a bunch of random stuff from their warehouse that they decide to put in a box.  It might be a dozen plastic army men, it might be a broken, returned GPS, or it might be 8 ipods and a flat screen TV.  You don't know!
Needless to say, it is nearly impossible to get one.  You don't know when it will appear, and the servers die almost instantly when it does because every single person clicks the "buy" button at once.  But I did it.  I got one, and it arrived this morning.
Don't believe me? Here is the box…
And the contents…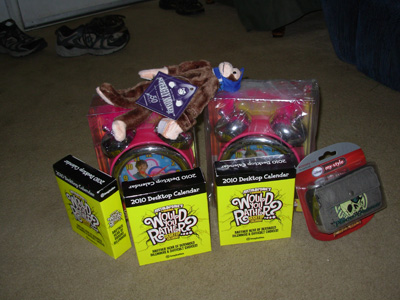 For those without eagle eyes, the contents are as follows:
ONE (1) official "Disney my*style" Mix and Pix accessory case.
THREE (3) 2010 "Would you Rather" desktop calendars
ONE (1) Woot! branded flying screaming monkey
and (this is the big one)…
TWO (2) gigantic High School Musical alarm clocks WITH fuzzy pink handles.  They each require 2 "AA" batteries (not included)
It is perfect!  This is everything I expected to be in a bag of crap, and more!